FME Form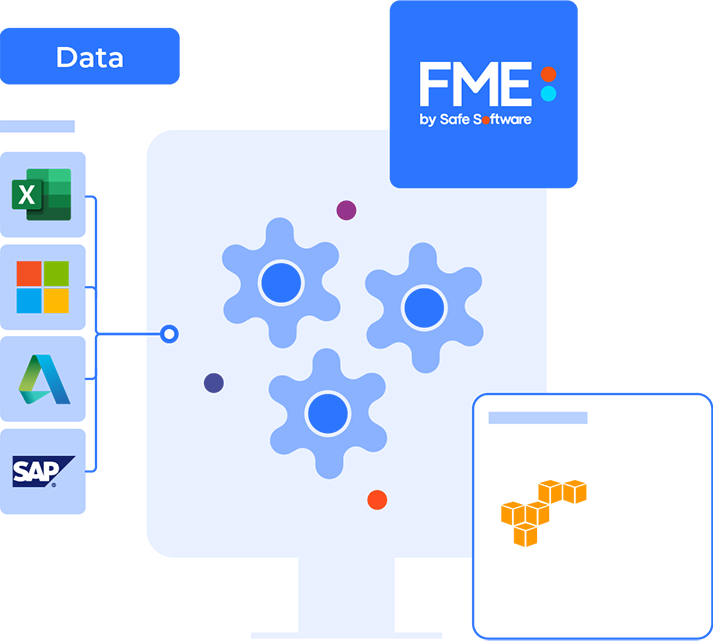 FME, the ETL for all your data
FME is a data processing tool that was originally designed to handle geographic information but has proven to be extremely effective in handling all types of data with an unparalleled interface and usability at a cost that is unmatched by general purpose ETLs.
Databases, GIS, spreadsheets, images, XML, CAD drawings, cloud, big data, point clouds… FME can read and write more than 500 formats and offers hundreds of operators for all needs.
FME is an indispensable companion for all data managers, but it can also become one of the pillars of your IT architecture by ensuring interoperability between your applications, automation and scheduling with FME Server.
FME Workbench
FME Workbench is the main component of FME Form. It allows you to design any data conversion and transformation process without a line of code. Its interface allows to represent the most complex processes in a totally graphical way thanks to hundreds of operators (Transformers) adapted to all uses.
You can also run your own Python code without worrying about reading and writing the datasets.
FME Data Inspector
FME Data Inspector is a visualization tool for all formats supported by FME, whether text, image or vector.
FME Data Inspector is used to analyse the datasets to be processed and the results of the processing, but above all it is an exceptional and indispensable debugging tool that allows you to visualise the state of all your data streams at any time during processing: a developer's dream!
Request for quote and information